Inspiration: Ustad Sultan Khan
Guru and Influence: his uncle Sarangi Maestro Padmabhushan Ustad Sultan Khan (15 April 1940 – 27 November 2011) is one of India's most highly acclaimed musicians of the modern era. He has played a pivotal role in developing the Sarangi from a peripheral accompaniment instrument to one now used in solo performance.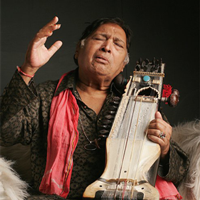 Ustad Sultan Khan comes from a long line of accomplished Sarangi players. He is the grandson of Ustad Azim Khan and the son of Ustad Gulab Khan, both of whom were distinguished Sarangi players of their time and is the 8th generation to take up the Sarangi.
He began his initial training with his father Ustad Gulab Khan and gave his first solo performance at the age of 11 at the All India Conference. Although he never directly learned under the great vocalist Ustad Amir Khan, he was highly inspired by his gayaki, which reflected in his playing.
In 1974, international success as a soloist was achieved when he performed a solo item at the Royal Albert Hall in London. Thereafter in 1974 he joined George Harrison from The Beatles and Pt. Ravi Shankar for the "Dark Horse" world tour along with other famous musicians. Since then he performed all over the world, playing a vital role in spreading the popularity of Indian Classical music all over the world.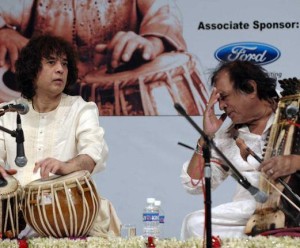 In 1984 his music was featured in the Oscar winning film "Gandhi"  and thereafter 'Khan  Sahaab' (Ustad Sultan Khan) began to record for other Hollywood films such as "Heat and Dust"(Merchant Ivory productions). In 1993 he has performed along with Ustad Allah Rakha Khan and Ustad Zakir Hussain at one of the rooms at House of Common where eminent persons were in attendance to witness a rare musical performance at the seat of Government.
It was this time when Khansahab became a regular artist for BBC Radio London. He also was interviewed for the BBC world service and also composed the musical track for the BBC 2 documentary "London Calling"(1997).
Added to the above is the fact that Khansahab has several albums to his credits and such has been the universal demand for the Ustad that he had been applauded by for his performances by Madonna (1997), Washington Symphony and for Prince Charles' birthday at the Buckingham Palace (1997).
Ustad Sultan Khan Sahab is also performed in a Sufi Music Festival at Whitehouse in Washington, United State of America (1998).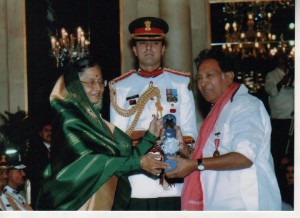 In honour of his talent and dedictation to his music and art, he had received the "Padma Bhushan" one of the India's highest civilian awards, which was presented to him by President of India Pratibha Patil in March 2010.
Additionally, he had won numerous musical accolades and awards, including twice the Sangeet Natya Academy Award (also known as the President's Award) as well as the Gold Medalist Award of Maharashtra, and the American Academy of Artists Award in 1998 and Mtv award for his album "Piya basanti".
He was gifted with a rare soothing, serene, voice which helped him render some of the most beautiful songs for his albums released by various international labels, such as
Piya Basanti – Sony Music,
Bhoomi – Virgin, Shoonya – BMG,
Ustad & The Divas – T- Series,
Ustad Sultan Khan and Friends – Times Music,
Pukaar with Ustad Nusrat Fateh Ali Khan – Sony Music
He had also sung for Hindi films such as
Hum Dil De Chuke Sanam,
Jab We Met
Rahul,
Kacche Dhaage,
Maqbool,
Paanch,
Agnivarsha,
& Mrs. Iyer,
Parzaniya, 99.9 Fm,
Superstar,
Mausam
Some of his leading students who are doing well in music are his son Sabir Khan, his brother Niyaz Ahmed Khan, his nephew Imran Khan, Dilshad Khan and Irfan Khan.
Other noted students are Vishal Bhardwaj, Iliyaraja, Sandesh Shandaliya, Gurdaas Mann, Falguni Shah, Kaleem Sheikh, Jaspal Randhawa and many others.