Imran belongs to the 'Sikar Gharana' or school of Music established in the kingdom of Sikar in Rajasthan. The family gained recognition when his grandfather, Ustad Azim Khan, was appointed court musician to the Maharaja of Sikar.
Ustad Azim Khan: Great Grandfather and Court Musician to Maharaja of Sikar.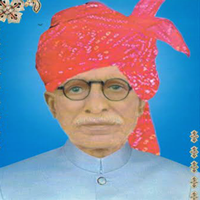 Ustad Azim Khan Sahab was a court musician for the Maharaja of Sikar, a city near the princely state of Jaipur in Rajasthan o, India. He was an accomplished Sarangi player of his time and he also played the sitar. One of the greatest musicians from Sikar Gharana, he dedicated his whole life in playing Sarangi to his audiences and spreading the message of peace and love through his music. He worked in Sikar for several years until the end of British Rule in 1947.
The state of Sikar bestowed upon him his first title, that of Ustad, or Master Musician. From the glittering courts to public performances, Ustad Azim Khan Sahab had mesmerized his audiences through his music. His legacy lives on in Sarangi which he taught to his sons Majid Khan, Gulab Khan, Rehman Khan and Imam-u-din Khan.
Ustad Gulab Khan: pioneer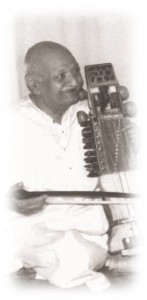 Born in Rajasthan, Ustad Gulab Khan (father of Padma Bhushan Ustad Sultan Khan) belongs to the prestigious Sikar Gharana, a place that has seen generations of seasoned and famous Sarangi players. His father Ustad Azim Khan Sahab was a Sarangi player and a court musician to the Maharaja of Sikar.
Ustad Gulab Khan was both an accomplished singer and a celebrated Sarangi player. He had the privilege to accompany many legends of his time like Ustad Amir Khan, Pt. Omkar Nath Thakur, Pt. Narayan Rao Vyas, Pt. Vinayak Rao Patwardhan, Siddheshwari Bai, Rasoolan Bai and Begum Akhtar amongst many.
Older music lovers who have seen him in concert will recall his stage presence and musicianship with reverence and awe. Ustad Gulab Khan's music has been hailed by both the critics and the masses. His performances have been marked by spontaneity, accurate notes, dazzlingly-paced taans which make use of his exceptional Sarangi training and a mastery over rhythm.
Never one to be controlled by the rigours of theory, he sailed high, sometimes floundering, nevertheless reaching out to the stars. His art lives on in the work of his sons- Padmabhushan Ustad Sultan Khan, Ustad Nasir Khan and Ustad Niyaz Ahmed Khan.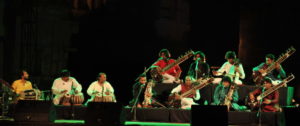 Members of the Sikar Gharana Ensemble, include upto 14 members of Imran's family, all who are classically trained and perform the music of the royal courts of Rajasthan (taken from Rajasthan International Folk Festival, Meharangarh Fort, Jodhpur)